Every other year there is a huge photography exhibition happening in Cologne. They say Photokina is the largest of it's kind in the world and we have been visiting the last three events in a row. We met amazing people from all over the world, made new friends in the industry and found partners and stunning products to work with.
Some people do not like this kind of exhibitions or trade shows but our personal option is, that if you have a little idea what you want to look at or which booth you want to check out, it is very helpful and a great chance get your hands on the latest products without getting overwhelmed.
This year is different for us. We "sadly" won't be able to be at Photokina in person (due to a destination wedding in Cypress) but it is the first time ever, that we will be promoting our own product at the expo floor! Yes, we are super thrilled about that. But how come?
Over the past years we have partner with the Portuguese album manufacturer Floricolor who is creating the most beautiful albums for our clients. We personal met the people behind this great company several times and are super happy that they sponsored our workshops and gatherings with free albums for all attendees. THANK YOU FOR THAT! YOU ROCK!
So, why should you be at photokina and where can you find "us".
As said, we have a little spot at the Floricolor Booth in Hall 9.1 – Booth E026 and we have Fabijan Vuksic, a super talented (and probably the hottest male) wedding photographer promoting our "Learn How We Do It" Workshop Video. He has a SHOW SPECIAL for you and is there to answer all your questions you might have about the video workshop.
The SHOW SPECIAL is 50,- Euro off for the full workshop video as well as a FREE Floricolor Album. Be sure you visit the Floricolor Booth and say "Hi" to Fabijan, Tiago (CEO) and the gang. We might be there via Facetime sometimes too :)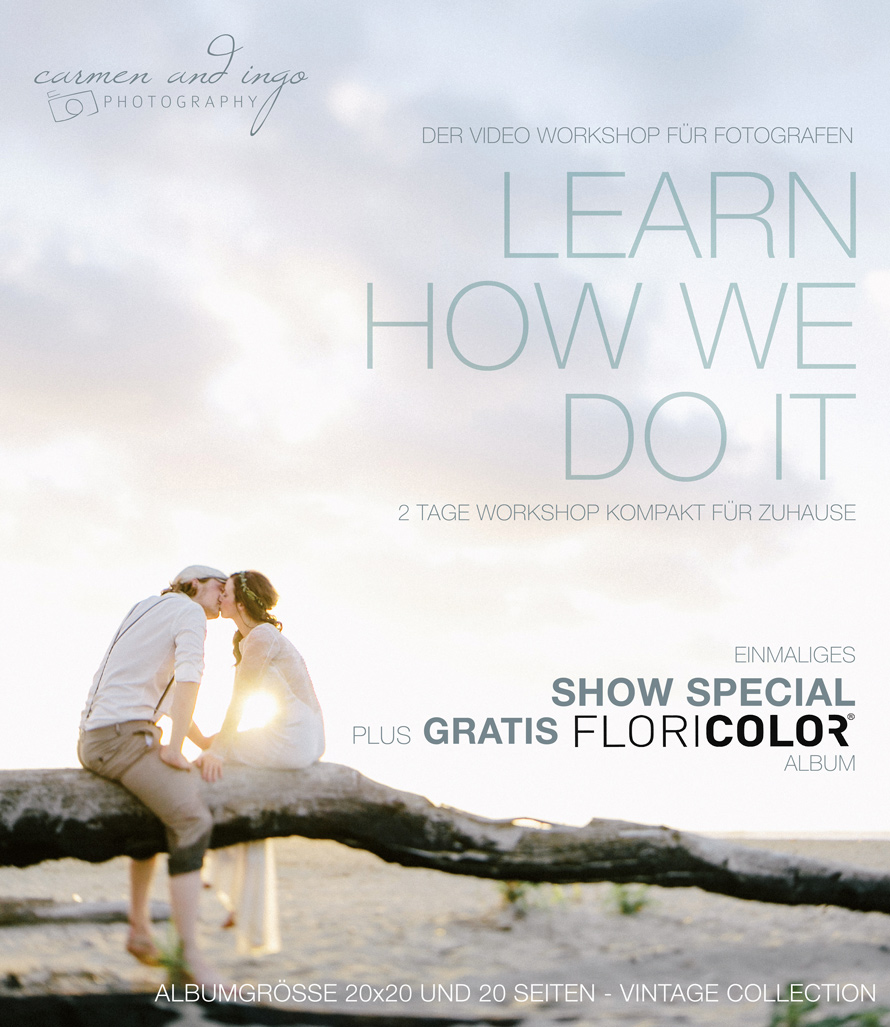 One more thing! ;-)
Second German Wedding Meetup during Photokina 2014
If you are in the wedding industry you have heard about the Wedding Meetups all over the countries. In case you follow our work and us for some time already, you might know that we have been initiating this Wedding Meetups in 2011 here in Munich.
During last Photokina 2012 we have had the larges event with more than 150 people in Cologne. This year there will be the 2nd German Wedding Meetup and you should not miss being part of that. 17th September starting at 18:00. At the moment there are over 250 signups and we are sure it's gonna be a huge hit. Rumors say our Partner Floricolor is sponsoring a FREE sample Album for everyone, so you better sign up to be there too. We promise you won't regret being there!  Here is the Facebook Event.
Big THANK YOU goes out to SJ Kim from the WeddingPilots and his team for hosting this years event! We cannot wait to hear the stories and see photos.
We hope you are having a great time at Photokina and GWM and be sure you stop by at "our" booth too.
All the best and have a great start into this week.
Carmen and Ingo