Hi Wedding Folks,
How are you doing? Are you as excited as we are for the upcoming 5th Munich Wedding Meetup on 9th of February?
Today we would like to encourage you to participate at one of the Meetups in 2012. It can be the next or just at one in the future. How can you participate?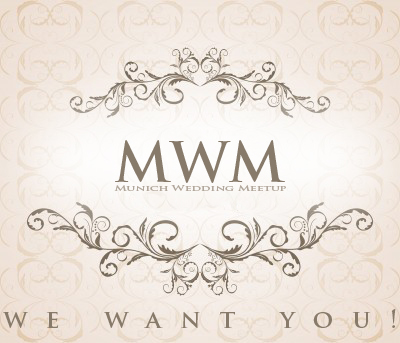 It could be one of the following.
5-7 minute presentation about you and/or your work/service
5-7 minute presentation about people who inspire you and/or your work
Presentation about anything which can be helpful to others. Try finding a common topic for photographers, film makers, planers, designers, bloggers, etc. We know, that's not easy and no worries, if it's special for one group only, but don't make it 50 min then :-)
Presentation about anything you want to share and others might find interesting
We are open to further topics!
Presentation may be in English or German language. If you feel like this is what you wanna do, drop an email to info[add-the-at-sign]weddingmeetup[add-a-dot].com and let us know about it. We make it work together!
Looking forward to your contribution
Carmen and Ingo