Hello everybody!
Oh my Buddha ;-) it's been almost two month now that we are away from home and as we type this we are just sitting in a Thai bus heading to Chiang Rai. Back home they got the first snow and Christmas flair and feeling is all over the place. Nothing to see about this here though. Neither snow, nor Christmas feelings coming up. But to be honest, it could ;-) as its wintertime here in South East Asia as well.
We left Laos behind and we realized that we haven't blogged about it. So here we go for part one:
We left Siem Reap very early in the morning. Before sunrise. Having an overpriced 13h trip ahead we hopped for good conditions. Looking back they were not bad but at the time we were a bit scared as the minibus driver though we are in a race he got to win. No kidding we were really happy as we changed to another as bus about half the trip to the so-called "4000 islands"
We choose Don Det to hang out a couple of days to enjoy the famous "Laos style" which is pretty much doing nothing than "testing" hang mats.
We saw the best sunset so far on our trip (check out the time-lapse below) the other day and could not resist getting bikes and cycling around on the island.
We had the impression, that this island was just made up for tourists and indeed there were lot of those very "cool" travelers. Also the staff working on the island did not look happy to be there and was thus not very friendly.
So we did not stay long and took a boat/minibus trip to Pakse. This trip got famous as "ticket-ticket-ticket"-trip because we had to show our tickets almost twenty times to the same person again and again.
Pakse turned out to be a nice city with great food and it was a starting point for several tours in this area. We hang out with a Swiss couple, Eli and Oli, who are super nice and totally laid-back, traveling the world already for 9 and 12 month. We met them on the Island the other night and what was great about it was their company, Smy. Smy was a Cambodian guy they know since years and they visited him this time again and decided to take him "on tour" to join them for a week on they're travel. They paid the expenses he would not have at home and they, as well as we, had a lot of fun with him.
We went out on a motorbike to see the Wat Phou temple. A UNESCO world heritage which is approximately 200 years older then Angkor Wat. Very impressive too.
To avoid the big touristic path for a while we went to Tad Lo. A little village two hours (localbusride) from Pakse. We immediately liked it after we jumped off the bus. Very laid-back and not too much foreigners their. One night we spent in a bungalow which was build pretty much in the jungle. And so was the night ;-) not much sleep due to monkey and rat party ;-)
This night made us move to Mr. Poh's guesthouse. A Jung man with two children and a sweet wife. They were totally friendly and had some really good accommodations. Actually build with the help of some Austrian friends and thus he seems to like Austrians a lot :-)
We cooked with him and really enjoyed being there. One day his uncle guided us to a village near Tad Lo (1 hour walk) where people have hardly seen tourists. We might have been number 9 and 10. This year or ever. And this visit made us feel maybe as tourists somewhat years ago where the locals just stop every work and join you as well as kids look at you as a real strangers. Big, and white, strange language and obviously not from the neighborhood. The kids followed us all the way through their very basic village. We got some Lao whisky from the village head and had fun talking to the locals through our guide.
Poh recommended us to bring some notebooks and pencils, what we sure did. The teachers where out for the weekend so we did not hand it over to the kids, as some of them can effort books and others don't.
For us it was a pleasure to see how they live and how they manage their daily business. Electricity was there but just a few solar cells to load some batteries for light and radio. The big problem is the water. No running water for sure but even a little river nearby does not spent much during the dry season.
But it will not need long time to get those people to aiming for the tourists and their money. The older kids go to the small town on a regular basis, also for school later but western cloth and mobile phones are well known already.
When we arrived near Tad Lo and walked to the village a man welcomed us and asked about our origins as well as names. After we said where we are from he went further with: "Ah Nähe Deutschland! Schön dort. Schnee oder?"
We where totally surprised and it turned out, that Kongh, that was his name, was sent to the DDR in 1979 to study telecommunication for 5 years. His German was still excellent and we spend almost every eve there to talk to him and drink a beer or two. He told us about Laos, the culture and the past. He was really nice and we enjoyed talking to him. Learned a lot about Laos and the history. Did you know, that Laos is the most bombed country in the world? During the Vietnam War, the Americans flew over half a million strikes over Laos and dropped 2 million tons of bombs. You can see bomb crater all over the country. Almost 50% of the bombs where not exploding and people still get injured.
We try to meet Konghs brother who has a restaurant in Las Vegas. We have got a video message for him ;-)
So here we are, and of part one. It is much to read and those who finished it getting an ice cream soon ;-)
We are coming back too you with part two very soon. Promise
Stay tuned – love from Thailand
Carmen and Ingo
iphone photo, boat trip to 4000 islands
bike tour on Don Det island to Don Khon
iphone pic, enjoying sunset on Don Det
Pakse, sunset at roof top
Wat Phou, UNESCO world heritage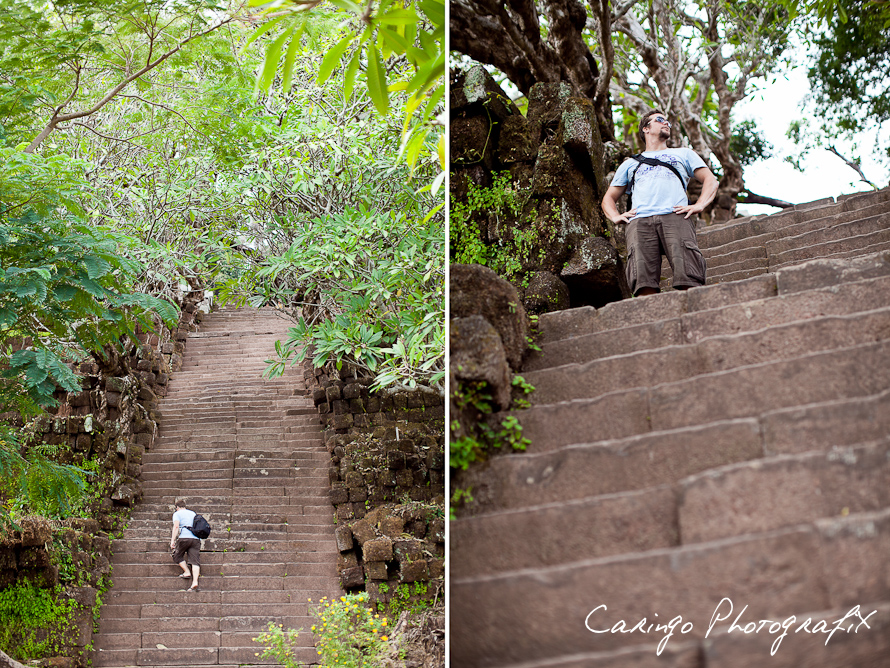 again a lot of stairs to climb up ;-)
Tad Lo, the crimeless village :-)
our first hut in tad lo, with the monkey party in the jungle
Poh, his wife, and one of their kids
bombs are still present in whole laos, you can see crater all over the country and they still find a lot of them.
ingo and poh cooking siders for the BBQ
they have a lot of chilli in laos, you can see them grow everywhere
in the morning and evening you can watch the elefant bath – they really enjoy the cool river
The village people welcome us with open arms and a strong drink at lunch time. Lao Wiskey is just not everyones fav drink, at least not ours :-) very strong
the man with the cap is the village chief, nice guys
berry´s from the jungle…a little sweet snack for the kids
a lot of people in Laos are animists (believe in ghosts and spirit) this little bag protects the children from the bad ghosts
the men plait traditional baskets
the women are responsible for the sticky rice: first pitching with a heavy wooden tamper, after seperating the rice from the skin
we tried it once …its really hard work! hats off!
the village kids wear raddled clothes, some didn´t have trousers. but for sure they have a lot of fun playing together
young women on her way to harvest chilli. A lot of women smoke in Laos, here the homemade tabacco in green leaves.