Today a super relaxed and don't-move-only-recharge-batteries kind of vacation ends and we are on our way back to Munich. More about the fantastic time here in Thailand is coming in a separate posting. We need to show this shoot with the lovely Natalie and Hayden first.
The Australian/New Zealand couple living in Sydney has gotten our attention last week as the staff in our resort has mentioned a wedding party at the other end of the beach. We both were pretty excited to see the venue getting ready and how the stationary and reception is looking like. Frankly speaking, we were very surprised about the beautiful style the team has created here. (We learned later, that the bride has planed this very well in advanced and things she wanted were even shipped from the states ;-)
What beautiful scenery! Look at this light during sunset for the arrival of bride and groom. The guests were waiting for them and everyone was wearing white. Oh boy would we have love to shoot this wedding. Anyway, we tried not to get to close to the people but we got a nice view from where all the other guests enjoyed their sunset.
Of course, we had to take some shots from the venue and from the arrival just in case we could hand this over to the resort for their own use. But it's coming a little different.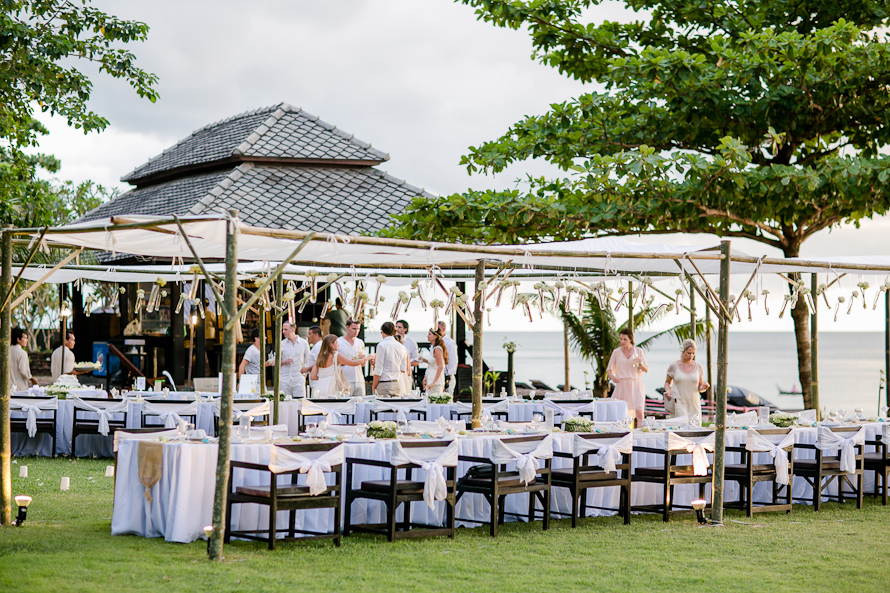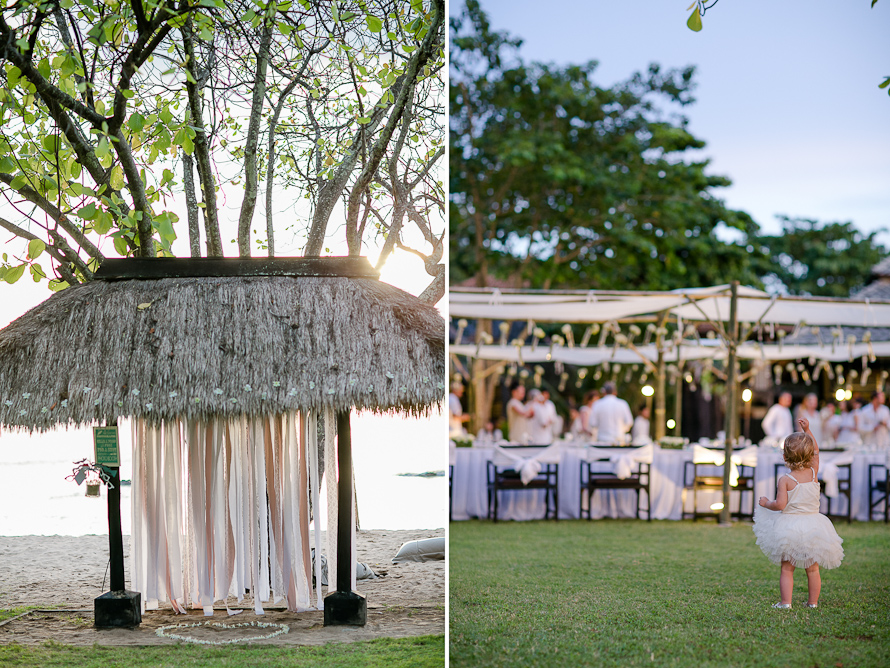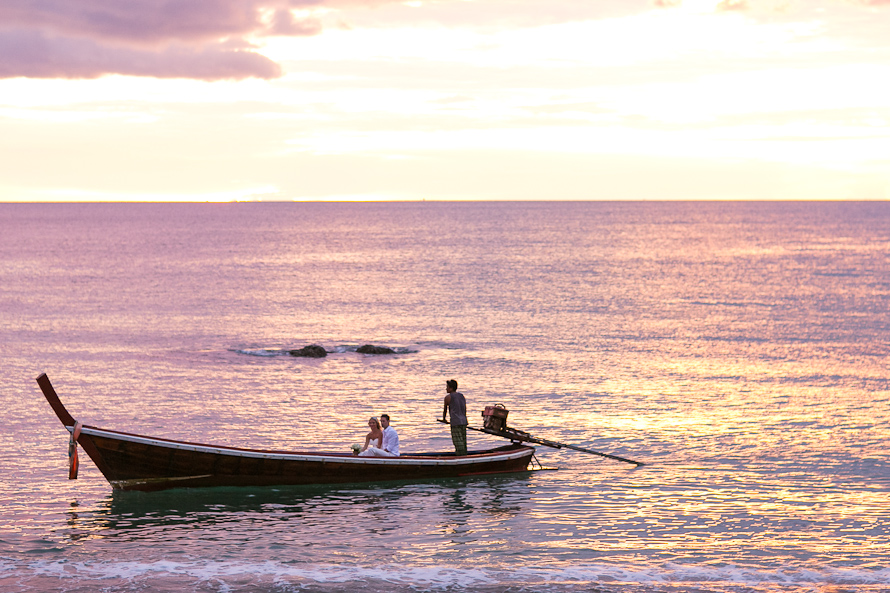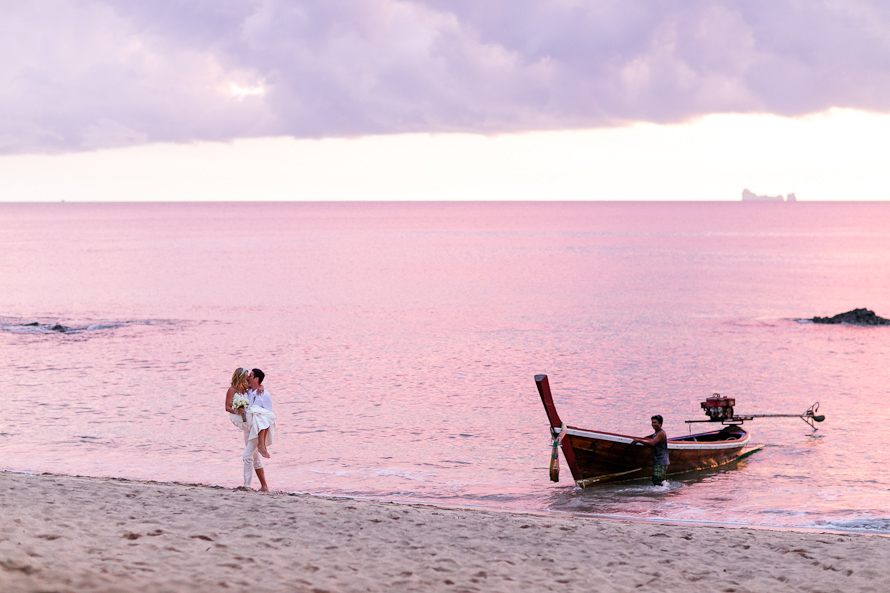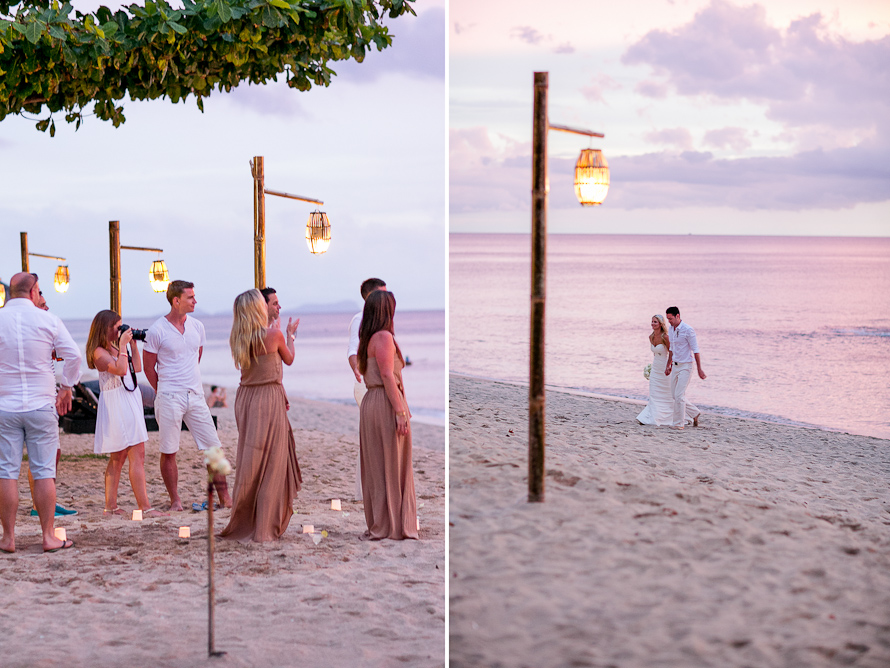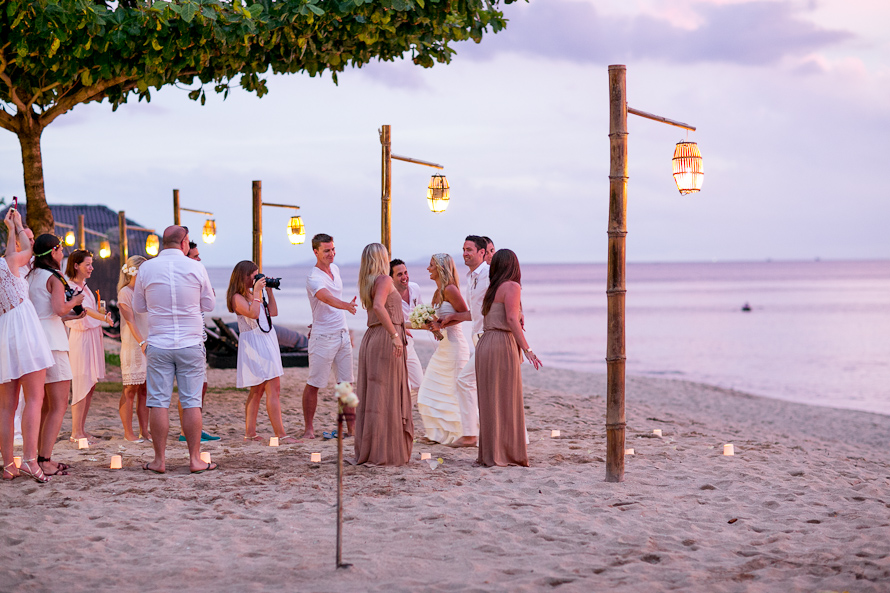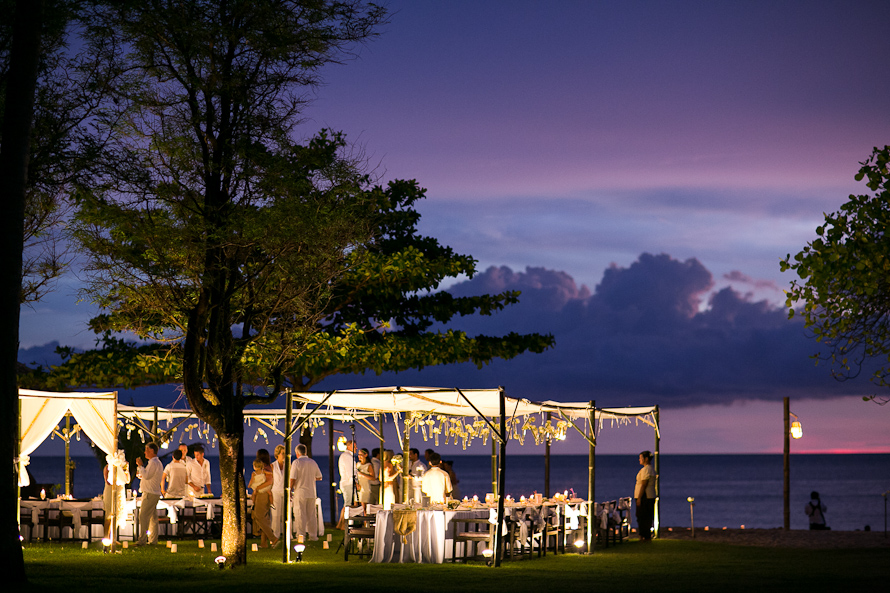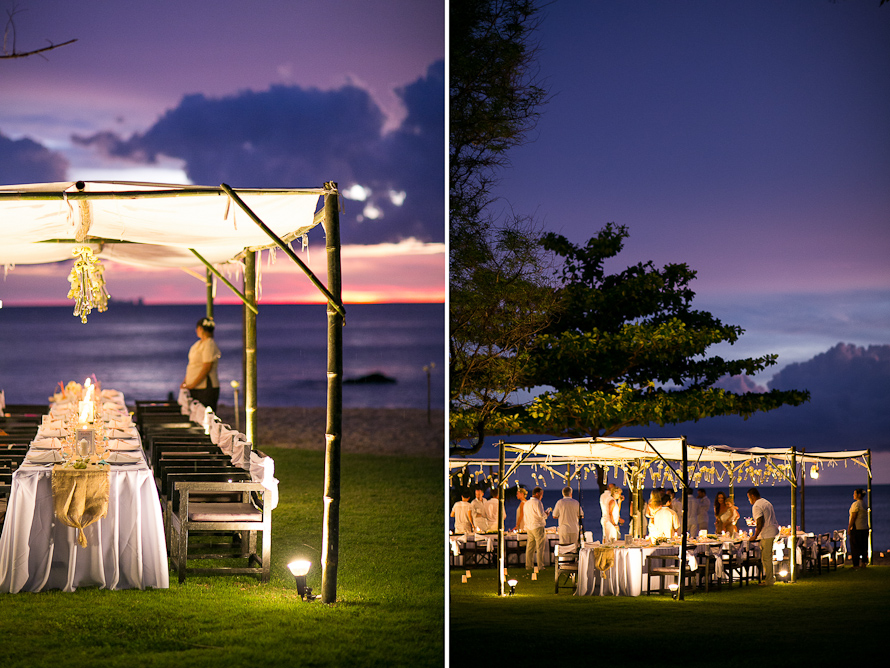 A couple of days later, we both had dinner at our resorts restaurant and there we spotted the bride and groom at another table with their family. Short before they left it was our chance to approach them and talk a little bit about there wedding and how beautiful this looked. "Haven't you heard about the disaster?" Natalie asked us?
"What? Which? Did it rain?"
No it did not rain. In real life this is not a short story but we try cutting it down for you: 8-month planning, very early wake up call (4am) at the actual wedding day, around 7am ceremony was scheduled at emerald caves (you need to swim 4 minutes through a cave to get to this beach), everything was ready, music started to play, something was going on (from the brides point of view), bride was walking down the "aisle", photographer did not take any photos, strangers in uniform were standing at the side, seven park rangers have crashed the wedding, NO event permit, NO photos, (even delete the ones taken already), bride and groom did not let to stop them, ceremony was held in 1 min instead of 15, groom was taken on the commander boat for about 40 min after the ceremony while all the guests were waiting on other speed boats.
OMW, we almost could not believe what the couple was telling us. What happened? The agency that was responsible for the permit and organization of the day, did not get a event permit, the only got a visitor permit. (Event permit is btw about 50 bucks)
Looks like someone was tipping this off in order to get some money out of it. For the couple and the guests this smart idea was the beginning of a disaster day. From there, of course the schedule ran totally out of plan, also everything else which was planed was not really working out anymore. Small things, and big things just went wrong. Only the part we saw that day, the reception, was still perfect.
Natalie and Hayden had booked a very talented (Thai) wedding photographer for that day but since everything was running out of schedule, he did not get the time for photos everyone would love to have with such a beautiful couple and this dreamy locations. We personally think, that he of course has tons of great photos. He also would have done a after wedding shoot with them we guess, but we have had the chance to look at his schedule and believe us if we say, that next year would be the first free day for that. His calendar was packed up until 2013.
So, here is where we come in for an after-vacation-wedding-shoot ;-)
Natalie and Hayden got our details to look up our work online. They emailed us and we met very early in the next morning for a fantastic shoot at their villa as well as a perfect beach nearby. We both were so lucky/happy to get the opportunity to do this shoot and we hope that we could give Natalie and Hayden something back after their "wedding ceremony disaster".
Thank you both so much for your patience and the trust into us and our work. It's been amazing to meet you and we catch up when we are down under someday (hopefully soon).
Love from Thailand
Carmen and Ingo
PS: anyone want's to do a after wedding shoot at the beach? the winter is long, just saying ;-)